Pytania Do Grupy Dziewczyn: 19 Pytań Do Grup Dziewczyn:
Pytania Do Dziewczyn, Które Możesz Im Zadawać W Dowolnym Miejscu I Uzyskasz Ich Zaciekawienie I Zaangażowanie W Rozmowę

Tylko Teraz Możesz Zdobyć Poniższy Ebook
Za Jedyne

7 zł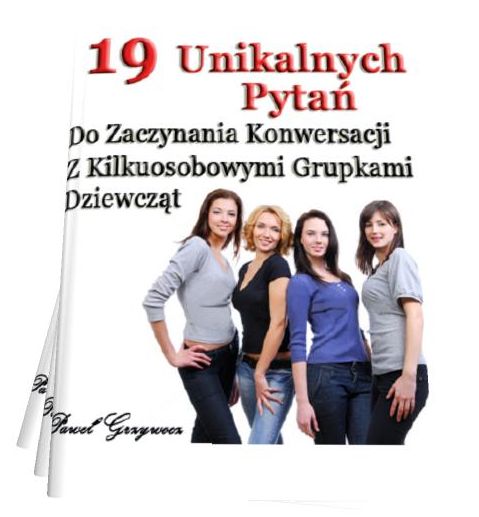 Dlaczego rozmawianie z grupami dziewczyn jest tak ważne?

Bądźmy szczerzy. Atrakcyjne dziewczyny rzadko przebywają zupełnie same. Otrzymuję bardzo często maile z pytaniami typu:
"Jak zagadać do dziewczyny, jeśli ona jest zawsze z koleżanką albo z kilkoma koleżankami i nigdy nie jest sama…, czekać, aż będzie sama czy podejść do nich wszystkich? Jak zacząć rozmowę, o czym rozmawiać?"
Normalnie odpisałbym bardzo krótko (ponieważ już nie nadążam z odpisywaniem na każdego maila z takimi pytaniami), a następnie odesłałbym Cię do ebooka "Jak Zagadywać Do Dziewczyn" ponieważ tam często ten temat jest poruszany.
Dlatego teraz masz możliwość zakończenia tego problemu raz na zawsze. Nie za 47 zł ani za 39 zł, ale za jedyne 5 zł.
Aha, i to nie jest kilka tekstów i koniec. Owszem, teksty są, jednak w tym ebooku otrzymasz cały proces rozwoju umiejętności zagadywania do grup dziewczyn. Nie dostaniesz jedynie "ryby", ale dostaniesz "wędkę". Ten ebook może zmienić Twoje życie.
Wiem, brzmi niewiarygodnie, ale wystarczy, że zrobisz ten eksperyment, który znajdziesz w ebooku. Jeśli go nie zrobisz, to proszę Cię, odeślij mi tego ebooka, a ja odeślę Ci pieniądze. Będzie to znaczyć, że jeszcze nie jesteś gotów podjąć działania.
W tym ebooku dostaniesz ponad 19 fascynujących pytań do dziewczyn, dotyczące tematów, na które kobiety uwielbiają rozmawiać. Na dodatek te pytania w ogóle nie kojarzą się z "podrywem" ani nie zalatują sztucznością z jakiegoś forum. Gwarantuję Ci, że nigdzie nie znajdziesz takich sposobów zaczynania i podtrzymywania rozmów, ponieważ sam je niedawno wymyśliłem i przetestowałem.
Czytelnicy piszą do mnie:
"Zajebisty patent, gdybym to wiedział wcześniej, to nigdy bym się już nie zastanawiał, o czym ja mam z nimi gadać i jak rozpocząć rozmowę" Piotr

Opinia audio:

Nigdzie nie znajdziesz tak taniego i jednocześnie skutecznego rozwiązania.

Opinia: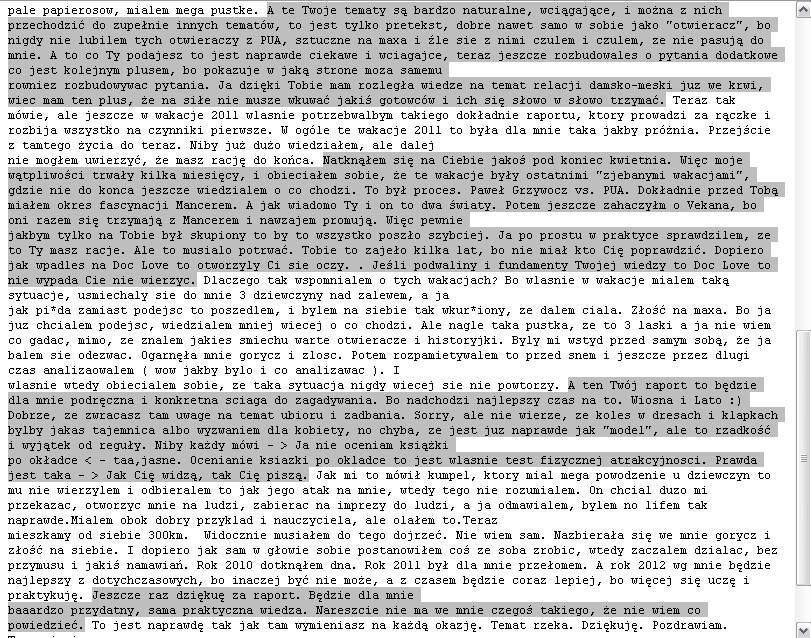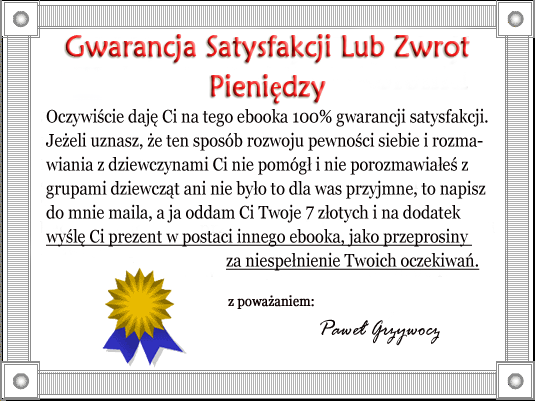 Cały proces zajmuje 2 tygodnie.
Jeżeli zrobisz to, co pisze w tym ebooku, to za 2 tygodnie zwiększysz drastycznie swoją pewność siebie i będziesz już po co najmniej 10 rozmowach z grupami dziewczyn. Nie będziesz się już bał, stresował ani zastanawiał jak do nich zagadać.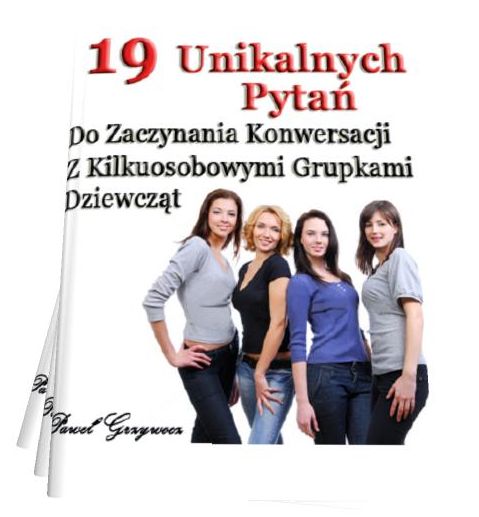 Tylko 7 zł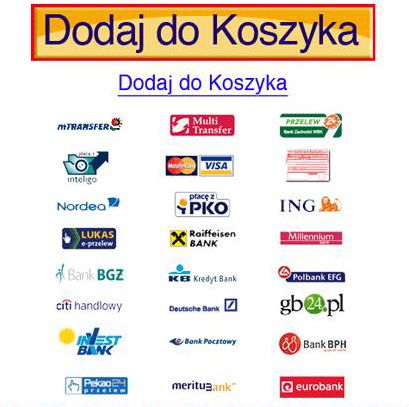 Jeśli chcesz zapłacić na poczcie lub zwykłym przelewem bankowym, wybierz na następnej stronie opcję Przekaz/Przelew bankowy w panelu PLATNOSCI.PL Realizacja przelewu bankowego trwa do 2 dni roboczych.
Ebook jest formie elektronicznej w postaci pliku PDF. To oznacza, że po zakończeniu płatności przychodzi automatycznie na Twój adres email. Naciskasz w nim link i pobierasz ebook na swój komputer.

Poszukiwano
pytania do dziewczyn
19 pytań do grup dziewczyn